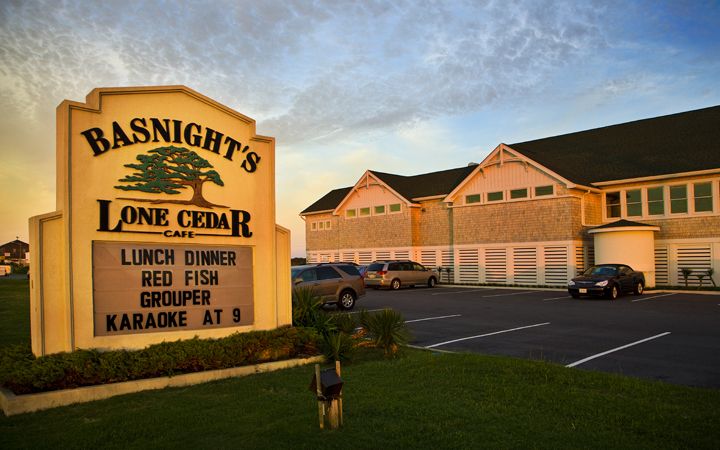 One of our top recommendations in not only Manteo, but all of the Outer Banks. Their completely North Carolina based menu features the freshest seafood around. "From boat to table." They use only NC veggies as well and offer wine enthusiasts over 2000 bottles to choose from. Every seat is water view and oh yeah, the she-crab soup is the best in the world! Our guests also rave about their amazing Sunday Brunch. The perfect choice on your way out of town on a weekend getaway. They can also cater any size event for you if you are hosting your event at Burrus House Inn. 
Blue Water Grill & Raw Bar offers fine dining, an extensive wine, cocktail and beer list, and one of the liveliest settings in the Outer Banks right on the waterfront in nearby Pirate's Cove. Fresh seafood salads, entrees and appetizers are the real draw here, but they also excel at a number of other dishes. Don't miss out on their signature "Oyster Happy Hour" and make sure to try their oyster shooters, some of the best we've ever had.


Avenue Grill: On the waterfront in downtown Manteo. Great Tuna Tacos, Shrimp and grits and homemade pizza.


JK'S Restaurant:  One of our top fine dining recommendations for steak and seafood on the Outer Banks! 



Owens' Restaurant

: In business for over 76 years of fine dining serving excellent steaks and seafood.

Darrell's Restaurant

: Family style seafood restaurant and elevated diner with 5 decades of experience  serving you only the best breakfast, lunch and dinner in Manteo. 

Sam and Omie's

: One of the Outer Bank's favorite breakfast place for over 70 years but also serving lunch and dinner.