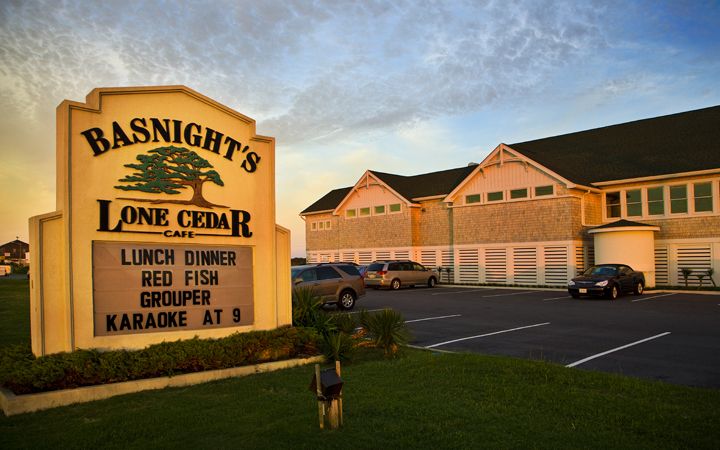 Enjoy Waterfront Dining at our Outer Banks Seafood Restaurant
At Lone Cedar Café, we specialize in fresh and local Outer Banks seafood. If you're craving the freshest fish, clams, crab, shrimp and oysters from local North Carolina waters, you'll find them at the Lone Cedar Café.
For generations, Outer Banks families made their livings — and their daily meals — from the bounty of local waters, caught fresh every day. Our family, the Basnights, were part of that history, and we continue the tradition today by serving only the freshest Outer Banks seafood, caught in local waters and brought to our docks daily by local fishermen, then cleaned and prepared right here at the Lone Cedar Café. Our vegetables are "just picked" from North Carolina farms, we serve only all-natural beef and poultry and even our herbs and greens are grown in our own chemical-free garden on-site. Come enjoy delicious food, gorgeous sunsets and panoramic water views, the antics of our resident ospreys and our warm Southern hospitality.
Blue Water Grill & Raw Bar might be considered "destiny's calling". Back in 1970, just married Will and Karen Shields crossed the bridge for the first time. At age 26, Will, the son of a Pennsylvania farmer and butcher, had never seen the ocean. As he stood under the Avalon Pier, holding his bride's hand, he was awestruck, and the rest is what he considers the family's destiny.
Through a series of career chapters and 3 great kids, the family moved from Pittsburgh, to Maryland, to Harrisburg, on to Richmond, and finally to Nags Head. Then Scott, a professionally trained chef, working in Staunton, Virginia, made the phone call that eventually led to the family's destiny. "Dad, it's time we go into business. Let's open a restaurant."
After long hours of planning, Scott and Melissa sold their home and they moved to Nags Head. Six months later, a little 32 seat restaurant named Blue Moon Beach Grill was born. Popular with the locals, the "once in a blue moon dining experience" grew in popularity, as did the restaurant, expanding to 64 seats. Out of Blue Moon, Blue Water Grill & Raw Bar was born.
Ask a Manteo resident for suggestions of places to check out in downtown, and almost everyone will include Poor Richard's Sandwich Shop on their list. Poor Richard's has been a Manteo icon since 1984, proudly serving deli sandwiches to the town and broader Outer Banks area. Their dishes use Boar's Head products to deliver bread-bound meat and cheese creations that delight foodies of all palates. Their menu ranges from classics, like Italian subs and their famou Reuben, to their specialty sandwiches, like the Heart Attack Wrap and the Angry Burger complete with pimento cheese, applewood bacon and jalapeno.
The pub-style restaurant mimics the interior of a ship's cabin: To enter, you climb the sloping ramp and make your way down the narrow, wood-paneled hall to the counter where you'll place your order. Slide into one of the cozy booths or better yet, sit at one of the tables on the open air back porch. Views of the docked ships and Manteo Waterfront make the experience all the more nautical, as you can almost pretend the ground is rocking rhythmically along with the waves.